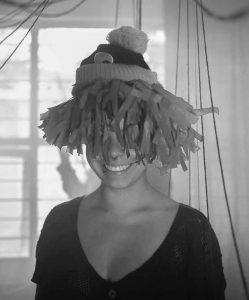 ENG
Regina Santana (Mexico, 1989)
She is characterized by the search for the human element facing mass production of the fashion industry.
In 2013, she founds her homonymous brand in which she experiments with unique designs that contributes to the individual construction and improve the relationship with their environment. Vision that she has shaped in collections and catwalks like Blanco, Negro & Sepia, Nostalgia, Pure Melancholy, Volver and Ausencia.
She has illustrated, reviewed and edited for magazines as Meow Magazine, Morbífica, Pinche Chica Chic, Flavours, among others.
From 2014 to 2016 assisted designers as Marika Vera, Cynthia Buttenklepper and Sol Kellan.
In 2015 she participated in the Korean artist Kim Youngsun drawing workshop and after taking an art direction and production design course at Atelier Romo, she started her work as costume designer and art assistant for cinematographic productions.
Her professional career is marked by participations in short films, videoclips, concerts, stage and art montages as well as artistic installations and the production of her own fashion short film.
ESP
Regina Santana (México, 1989)
Se caracteriza por la búsqueda del elemento humano ante la producción en masa de la industria indumentaria.
En 2013 funda su marca homónima en la que experimenta con diseños únicos que contribuyan a la construcción de individuos y a mejorar la relación con su entorno. Visión que ha plasmado en colecciones y pasarelas, como Blanco, Negro & Sepia, Nostalgia, Pure Melancholy, Volver y Ausencia.
Ha ilustrado, reseñado y editado para revistas como Meow Magazine, Morbífica, Pinche Chica Chic, Flavours, entre otras.
De 2014 a 2016 asistió a diseñadoras como Marika Vera, Cynthia Buttenklepper y Sol Kellan.
En 2015 participó en el taller de dibujo de la artista coreana Kim Youngsun, y después de un curso de Dirección de Arte y Diseño de Producción en el Atelier Romo, comenzó su trabajo como vestuarista y asistente de arte para producciones cinematográficas.
Su camino profesional está marcado por participaciones en cortometrajes, videoclips, conciertos, montajes escénicos y de obra, así como instalaciones artísticas y la producción de su propio fashion short film.